New Quick Connect Coupling Ranges from Eox
Published date: 19 Nov 2021
Back to Article Listing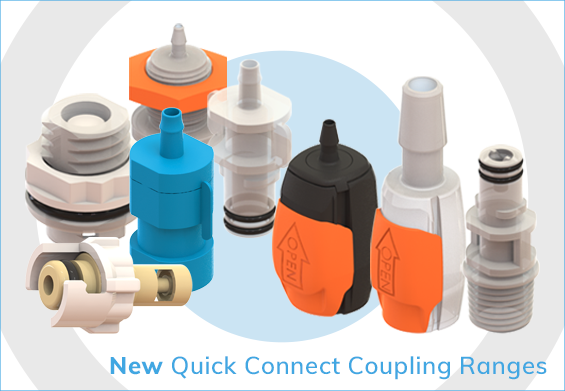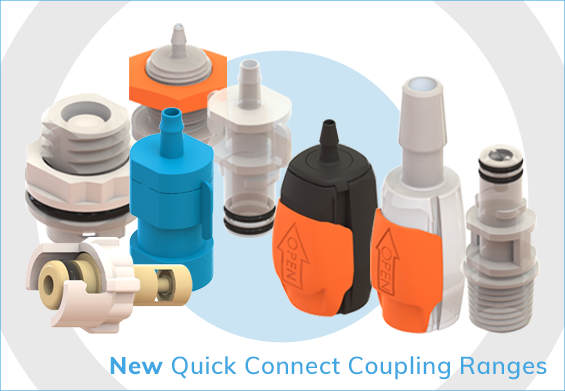 Introducing the two new quick connect coupling ranges available from Eox: The Sliding Latch and The Twist Lock
Quick connect couplings, otherwise known as quick release couplings or quick couplings, have revolutionised the pneumatic fittings market. These couplings have provided a plastic fitting option that can quickly connect and disconnect a line, without a loss of fluid or entrance of air into a system.
When working in medical, pharmaceutical, scientific, or industrial environments, quality, dependability, and safety are vital. This is why quick connect couplings are a great connection option, as spillages or leaks are prevented by valves that shut as soon as the coupling is disconnected. Quick connect couplings are particularly popular in Wound Care, Endoscopy, and Bioprocessing where product reliability is key to ensuring patients are kept safe. There are multiple material options to choose from, therefore these couplings are suitable for a wide range of fluids and gases used in these markets.
As these couplings are used across such a wide range of applications, they also come in multiple connection types and sizes. In fact, we actually advise that different types of connectors are used when using more than one connection per system, as this prevents misconnection for different media solution lines.
These quick connect couplings have multiple benefits and can provide you with the perfect solution to transform your application. Contact a member of our specialist team today, to help find the right coupling for you.
Sliding Latch
The Sliding Latch Coupling range has a unique spring-free flow path, which allows a larger volume of fluid to pass through them at lower line pressures. Innovatively designed to be disconnected easily with one hand, these couplings are simple to use and will not accidentally disconnect when dropped or bumped.

Quality-Assured
Many features of this quick coupling range ensure complete reliability and safety, making these the ideal option for a range of applications. The male valve assemblies include a vented spring chamber that works to eliminate fluid cross-over and prevents contamination. The recessed mating features help to ensure durability by protecting the contact surfaces and O-rings, which increases the durability of the product. Additionally, the safety slide release and an audible click upon connection increase the security and ease of use by minimising the accidental disconnects.
The Sliding Latch range has also been under testing to ensure they are resistant to contamination caused by bacteria; this aseptic quality has been designed so that the couplings meet the needs of medical, pharmaceutical, and scientific applications.
Key features include:
Aseptic

Valved and Open Flow Options

No-Spill Disconnect

Superior Single Barb Design

Smaller Size than Comparable Couplers

PP (Radiation, EtO)

PVDF (Autoclave, Radiation, EtO)
Other benefits that make this range of couplings ideal for medical, pharmaceutical, and scientific applications include:
Manufactured with USP Class VI/ISO 10993 Compliant Materials,

Ability to be Sterilised

Cleanroom Manufactured

Non-magnetic Spring Options Available
Suitable for a variety of projects
This ergonomic range of couplings is available in four different body sizes to accommodate tubing sizes ranging from 1/16" ID to 3/4" ID Tubing. There is also a variety of material and configuration options to fit your specific requirements.
Click to explore our Sliding Latch Coupling range today. Alternatively, contact us to find the Sliding Latch solution that suits your project.
Twist Lock
The Twist Lock Coupling range has not been designed like your typical coupling but instead has been created to be stronger and more intuitive by connecting through a Patented Quarter-Turn. After extensive testing and customer feedback, it was discovered that professionals' first instinct when disconnecting a pneumatic fitting was to twist. Therefore, this design was chosen to suit its users and create an easy but strong connection in one.

Secure and Reliable
The inventive design of this quick coupling range has ensured these couplings are not only high quality but also reach high standards of safety and dependability. The shut-off valve, integrated into the coupling, prevents fluid or gas from escaping or entering when disconnecting the coupling. In addition, the O-ring creates a seal and the locking lugs hold the couplings together before the shut-off valve begins to open. This creates ease of connection, even in high-pressure applications, whilst still preventing any leaks or spills.
Advantages of this coupling range include:
Single-handed Connection and Disconnection

Easy Installation into New or Existing Product Designs

Ergonomic Design

Optional Safety Spring Connection Lock

Competitively Priced yet Durable

Faster Assembly and more Consistent Sealing
Customisable for your application
The Twist Lock Coupling range comes in multiple configurations and materials, which means you can find the correct fitting for your project. There are several flow options, including Open-Flow and Shut-Off, and you can combine male and female connectors in various combinations to produce your desired result. However, one part stays the same: each connection is made with an easy and secure quarter-turn for a strong connection every time.
Click to discover our Twist Lock Coupling range today. Alternatively, contact us to find the Twist Lock fitting that your application requires.