5 Reasons to buy from Eox
Published date: 09 Apr 2020
Back to Article Listing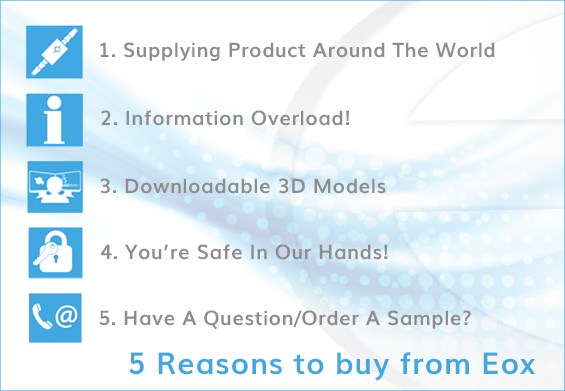 1. We Supply A Wide Range Of Products Around The World!
Eox supplies customers around the world with a unique portfolio of fittings, couplings, tubing, check valves and other miniature fluid control components. With the facility to order in smaller quantities, easy navigation and ability to search and filter on key requirements Eox Shop couldn't make it any easier to find the component you need.
2.

Information Overload!
To help you to find the perfect component for your application Eox offers downloadable technical data, dimensional drawing and documentation for every product on the site. If you have any additional requirements such as special packaging and labellingwe will do our best to meet your request.
3.

Downloadable 3D Models
Eox benefits from an inhouse team of Solidworks trained engineers. We can provide 3D downloads in IGS format for every product which allows you to drop into your own 3D software. If you need a different format just contact us!
4. You're Safe In Our Hands!
As an SSL certified website Eox provides a safe-to-shop online environment. If you create an account, you will have the ability to view previous purchases, use the quickorder function and add items to your wish list. Eox also has a guest checkout for those of you who do not want to create an account – it couldn't be easier to purchase from us
5. Have A Question/Order A Sample?
We have an inhouse team ready to take your enquiry! You can contact us via email or via our Contact Us form. If you need any help or technical assistance, we are happy to answer your questions and product queries. To keep in touch sign up to our newsletter on the homepage to receive regular updates about the latest products and additions to the site