ISO 80369 - Available Now
Published date: 07 Feb 2020
Back to Article Listing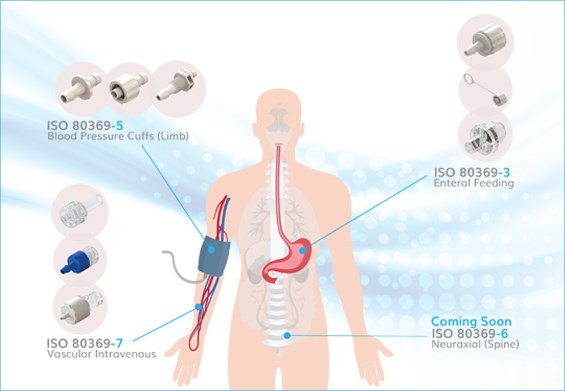 What is ISO 80369?
ISO 80369 is a series of standards which is designed to improve patient safety by reducing the risk of misconnections with small-bore connectors which are used in liquid and gas healthcare applications. The ISO 80369 series of standards aims to minimise misconnections between small-bore connectors of different functional categories.
Why is ISO 80369 important?

The need to improve patient safety is the most obvious answer. It is common for patients to have many lines connected in order to deliver the treatment they require. For example, the devices in intravenous applications needed to administer the treatment use a universal luer lock connection, misconnections can cause leaks which lead to an incorrect dosage of medication or delivery of an incorrect fluid or gas which can cause complications or even death. The ISO 80369-7 standard for intravascular and hypodermic applications has tightened dimensions and functional testing for luer connectors to stop these mistakes from happening.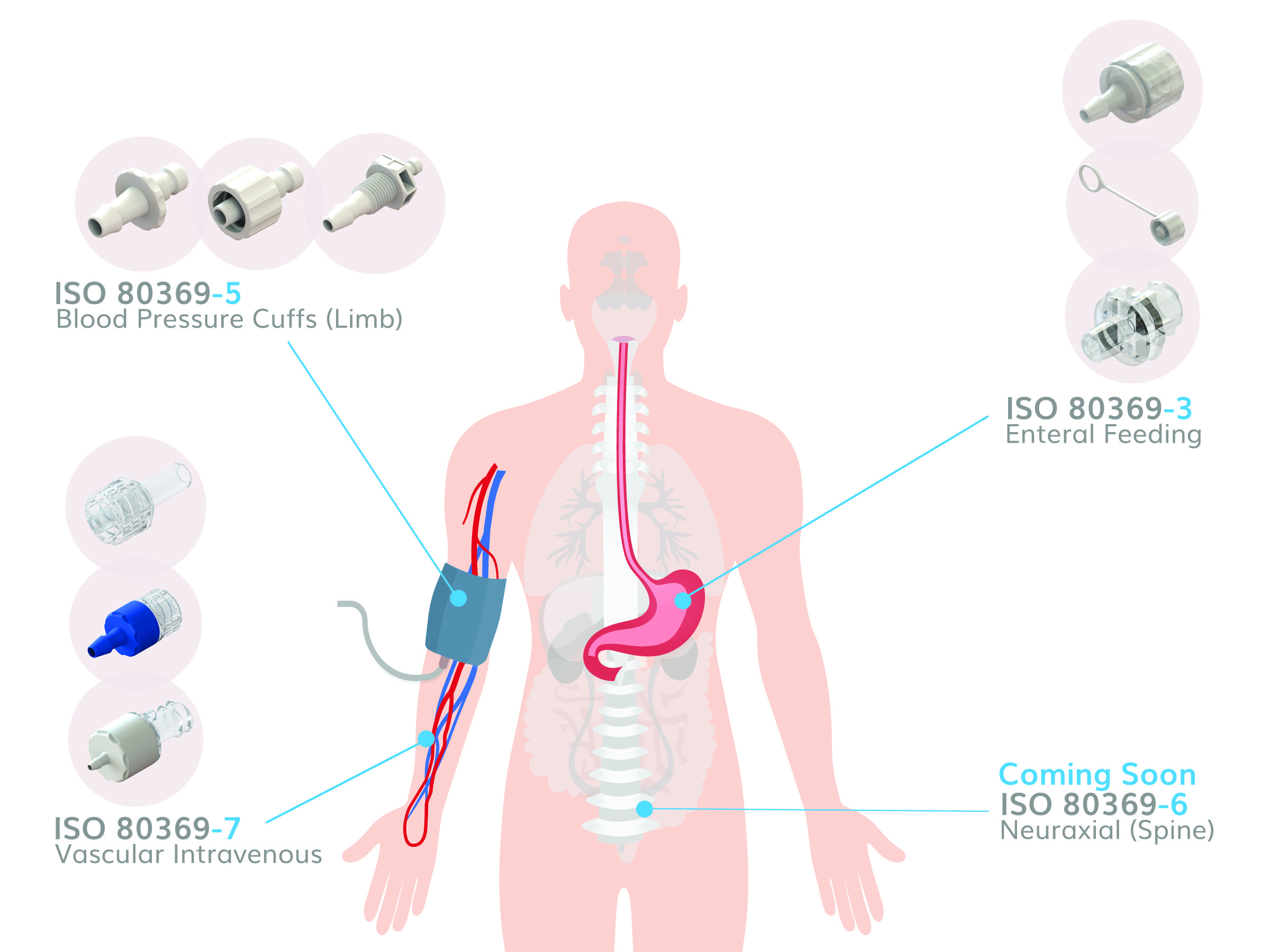 What are 80369 Standards and what do they mean?

ISO 80369-2 Respiratory Systems
ISO 80369-3 Enteral Feeding Systems
ISO 80369-4 Urinary Collection
ISO 80369-5 Blood Pressure Cuffs (Limb Cuffs)
ISO 80369-6 Neuraxial (Spine)
ISO 80369-7 Vascular Intravenous (Artery/Veins)
Eox offers products in the -3, -5 and -7 categories, our products include -7 luers, luer filters, check valves, filters, -5 couplings and -3 enteral feeding couplings. We will have -6 Neuraxial connectors available soon.
How does this affect you?

If you intend to use any small-bore connectors to convey any liquid or gas in healthcare applications these ISO 80369 standards apply to you.
The Problem:

According to ISO 80369-1 in describing the problem: "In a coronary care unit there are as many as 40 luer connectors on the medical devices used with a single patient. Therefore, it is not surprising that misconnections are made."
The Solution:

Simple - Test connectors of different medical applications against each other to ensure non-interconnectability
Testing capabilities include:

Dimensional requirements for luer connectors
Fluid leakage by pressure decay using specific reference fitting
Falling drop positive pressure liquid leakage
Subastmospheric-pressure air leakage
Stress cracking – with reference fitting
Resistance to separation – from axial load/unscrewing
Resistance to overriding
If you require any further information regarding our ISO 80369 products please contact us sales@eoxshop.com